Well Drilling in Happy Valley, OR
If you need a new water well in Happy Valley, Boring, Sandy, Eagle Creek, or Damascus, OR, put your trust in an experienced, reliable company to drill, plumb and install it for you. Olsen Well Drilling & Pump Service has been providing area residents with safely drilled new water wells for more than a century! We're the team to call when your property needs a new well.
Our knowledge of the region's water table is unparalleled and we understand the intricacies of well drilling in the Happy Valley area. Count on us to make sure your well is dug to the appropriate depth, plumbed safely and generally installed to meet all state and federal guidelines for potable water wells.
Water Drilling
Call us for a well that's drilled quickly and accurately, to the appropriate depth. We have all the necessary equipment for water drilling in Happy Valley, OR, so you don't have to worry about subcontractors or third-party companies. Our team will handle the complete well installation from start to finish.
We can drill on just about any property, locating the ideal spot for the well and ensuring the water drilling process is undertaken safely. We'll check for utilities, confirm drill site selection and bore your well appropriately, tapping into the Troutdale Sandstone Aquifer that covers this region.
Plumbing Your Well
Plumbing a well properly is essential for ensuring any potable water pumped through it remains safe. We're experienced in plumbing new wells quickly and with unparalleled efficacy. Rest assured any water pumped through your new well will be safe from any contamination by parasites and bacteria from the surrounding soil.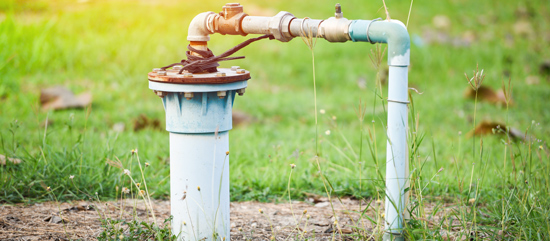 Enjoy Fresh, Clean Water from Our Well-Drilling Contractors
Olsen Well Drilling & Pump Service takes pride in being the foremost authority for new water drilling, water pump installation, and water testing in Happy Valley, OR. If your property needs a new well dug and plumbed, contact us at 503-665-3353 to schedule an appointment.